Vol. 4 No. 1 (2022): Journal of Cardiovascular, Neurovascular & Stroke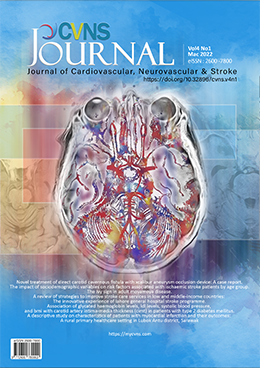 1. Saima Ahmad, Daignostic and Interventional Neuroradiology Department, Lahore General Hospital, Lahore, Pakistan.
2. Hong Chuan Loh, Clinical Research Centre, Hospital Seberang Jaya, Ministry of Health Malaysia, Seberang Jaya, Penang, Malaysia.
3. Nurul Hafidzah Rahim, Radiology department, Hospital Kuala Lumpur, Malaysia.
4. Muhammad Arss Budi Purwito, Department of Radiology, Faculty of Medicine, University of Brawijaya, Malang, Indonesia.
5. Ho Yik Hon,Department of Cardiology, Sarawak Heart Center, Kota Samarahan, Sarawak, Malaysia.
Full Issue