A Descriptive Study on Characteristics of Patients with Myocardial Infarction and Their Outcomes: A Rural Primary Healthcare Setting in Lubok Antu District, Sarawak
Abstract
INTRODUCTION: Myocardial infarction (MI) is the leading cause of death worldwide. More studies are needed to provide insight of MI care in rural settings in Malaysia.
OBJECTIVE: This study aims to define characteristics of patients who experienced MI in rural setting and their outcomes.
METHODS: We conducted an observational study involving secondary data collection through review of medical records of patients who presented to rural primary healthcare facilities before being referred to regional secondary and/or tertiary centres. We explored their outcomes including inpatient and 30-day cardiac-related mortality.
RESULTS: Nine patients were included. Eight (88.9%) experienced STEMI. Eight (88.9%) were male. Median age was 53 (Q1:40.5–Q3:64.5) years. Median duration from symptoms onset to presentation was 2 (1.125 – 35.250) hours. Median time from presentation to aspirin delivery was 45 (12.5 – 86.0) minutes. The median door-to-needle time was 190 (163.0 – 212.5) minutes. Five (55.6%) received medical thrombolysis in secondary hospital prior to elective percutaneous coronary intervention (PCI).  Inpatient mortality was 11.1% corresponding to 30-day mortality.
CONCLUSIONS: MI is potentially under-diagnosed and under-treated in resource-limited rural settings where community awareness is low complicated by logistic challenges. Better resources with better equipped healthcare facilities are essential for prompt diagnosis and interventions for MI patients.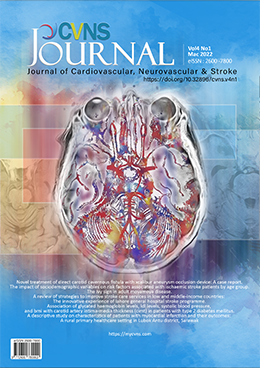 Downloads
How to Cite
Ho, Y. H., Lim, C. T., Albart, S. A., Schee , J. P. ., Looi, I., & Fong, A. Y. Y. (2022). A Descriptive Study on Characteristics of Patients with Myocardial Infarction and Their Outcomes: A Rural Primary Healthcare Setting in Lubok Antu District, Sarawak. Journal Of Cardiovascular, Neurovascular &Amp; Stroke, 4(1), 42–48. https://doi.org/10.32896/cvns.v4n1.42-48
License
Copyright (c) 2022 Journal Of Cardiovascular, Neurovascular & Stroke
This work is licensed under a Creative Commons Attribution-ShareAlike 4.0 International License.