About the Journal
Cardiovascular, Neurovascular & Stroke (CVNS) Journal is an open-access, multidisciplinary, peer-reviewed medical journal for cardiovascular, neurovascular, as well as stroke medicine. It features the latest aspects of diagnostic and therapeutic approaches of these clinical disciplines. We accept and publish articles that revolves around these specialties including the new trends in image-guided therapy (IGT). We believe the journal will be a great catalyst for further academic work and scientific research in these clinical specialties.
Digital Archive
The articles published in the CVNS will be assigned with digital object identifier for online publication by Crossref, a multilingual European Registration Agency for DOI.
---
Current Issue
Vol. 4 No. 1 (2022): Journal of Cardiovascular, Neurovascular & Stroke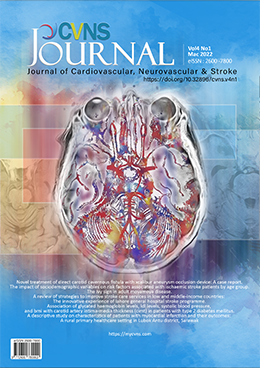 1. Saima Ahmad, Daignostic and Interventional Neuroradiology Department, Lahore General Hospital, Lahore, Pakistan.
2. Hong Chuan Loh, Clinical Research Centre, Hospital Seberang Jaya, Ministry of Health Malaysia, Seberang Jaya, Penang, Malaysia.
3. Nurul Hafidzah Rahim, Radiology department, Hospital Kuala Lumpur, Malaysia.
4. Muhammad Arss Budi Purwito, Department of Radiology, Faculty of Medicine, University of Brawijaya, Malang, Indonesia.
5. Ho Yik Hon,Department of Cardiology, Sarawak Heart Center, Kota Samarahan, Sarawak, Malaysia.
View All Issues