About the Journal
Cardiovascular, Neurovascular & Stroke (CVNS) Journal is an open-access, multidisciplinary, peer-reviewed medical journal for cardiovascular, neurovascular, as well as stroke medicine. It features the latest aspects of diagnostic and therapeutic approaches of these clinical disciplines. We accept and publish articles that revolves around these specialties including the new trends in image-guided therapy (IGT). We believe the journal will be a great catalyst for further academic work and scientific research in these clinical specialties.
Digital Archive
The articles published in the CVNS will be assigned with digital object identifier for online publication by Crossref, a multilingual European Registration Agency for DOI.
---
Current Issue
Vol. 3 No. 3 (2021): Journal of Cardiovascular, Neurovascular & Stroke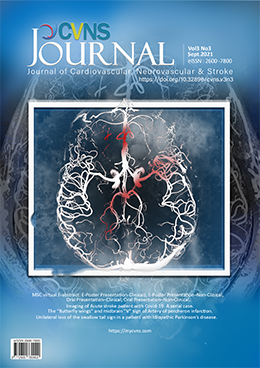 1. Malaysian Stroke Conference 2021, Kuala Lumpur, Malaysia.
2. Dr. Wisniardhy Suarnata Pradana, Radiology Department, Saiful Anwar General Hospital, Malang, East Java, Indonesia.
3. Dr. Chee Yong Chuan, Department of Medicine (Neurology), School of Medical Sciences, Universiti Sains Malaysia.
4. Dr. Anna Misyail Abdul Rashid, Department of Neurology, Universiti Putra Malaysia (UPM) Teaching Hospital, Malaysia.
View All Issues