MSC 2021 Virtual E-Abstract
Oral Presentation–Clinical
Abstract
1. Factors Influencing The Uptake Of Stroke Thrombolysis In Malaysia: A Case Study From The Healthcare Providers' Perspective.
2. Growth Hormone And Ischemic Stroke: Focus On Growth Hormone Deficiency And Therapeutic Effects Of Growth Hormone On Brain Recovery.
3. Predictors Of Post-Thrombolysis Intracerebral Haemorrhage In Patients With Acute Ischemic Stroke.
4. Predictors of Mortality In Thrombolysed Acute Ischemic Stroke Patients of Seberang Jaya Hospital.
5. Bilateral Dejerine Syndrome: A Case Report with Diagnostic Dilemma.
6. Outcome Of Ischemic Stroke Thrombolysis Treatment In Seberang Jaya Hospital, A Single Center 9 Years Review: 2012-2020.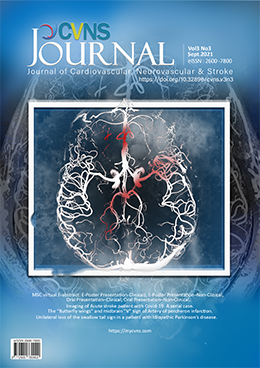 Downloads
How to Cite
Stroke Conference, M. (2021). MSC 2021 Virtual E-Abstract: Oral Presentation–Clinical. Journal Of Cardiovascular, Neurovascular &Amp; Stroke, 3(3), 37–42. https://doi.org/10.32896/cvns.v3n3.37-42