MSC 2021 Virtual E-Abstract
E-Poster Presentation-Clinical 05
Abstract
1. Challenges Of Post-Acute Stroke Rehabilitation In Obese Patients : A Case Series.
2. Overview Of Ischemic Stroke Among End Stage Renal Failure Patients On Hemodialysis.
3. Driving Advice Documentation On Discharge Letters For Cardiac And Other Patients.
4. Preparedness In Stroke Caregiving Among Family Caregivers.
5. Acute Stroke Unit of Seberang Jaya Hospital – One Year Experience.
6. UKM Medical Center Stroke Unit: Team Recruitment of Patients To The AVERT DOSE Trial During The COVID-19 Pandemic.
7. Successful Thrombolysis Beyond Guidelines: A Case Series.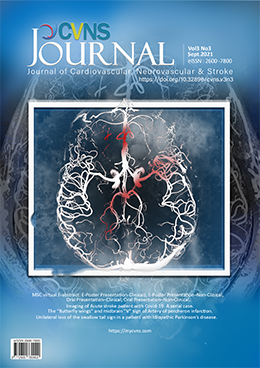 Downloads
How to Cite
Stroke Conference, M. (2021). MSC 2021 Virtual E-Abstract: E-Poster Presentation-Clinical 05. Journal Of Cardiovascular, Neurovascular &Amp; Stroke, 3(3), 29–35. https://doi.org/10.32896/cvns.v3n3.29-35