MSC 2021 Virtual E-Abstract
E-Poster Presentation-Clinical 04
Abstract
1. Extended Hours Thrombolysis Guided By DWI-FLAIR Mismatch.
2. Carotid Artery Stenting For Radiation Induced Late Carotid Stenosis: A Case Report.
3. Cerebral Venous Sinus Thrombosis In Male Gender: A Case Series.
4. Effects Of Malaysian Movement Control Order (MCO) 1.0 Following Covid-19 Pandemic On Acute Stroke Service In Seberang Jaya Hospital.
5. A Rare Pontine Infarct With Abducens Nerve Palsy, Hyperacusis And Contralateral Hemianaesthesia Mimicking Gasperini Syndrome.
6. A Case Report On A Rare Syndrome: Gerstmann Tetrad In A Stroke Patient.
7. Oxford Cognitive Screen Malay Version: Validation Of Stroke-Specific Cognitive Screening Test Pilot Study.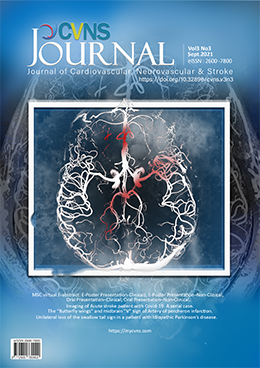 Downloads
How to Cite
Stroke Conference, M. (2021). MSC 2021 Virtual E-Abstract: E-Poster Presentation-Clinical 04. Journal Of Cardiovascular, Neurovascular &Amp; Stroke, 3(3), 22–28. https://doi.org/10.32896/cvns.v3n3.22-28