MSC 2021 Virtual E-Abstract
E-Poster Presentation-Clinical 03
Abstract
1. Case Report: Dual Antiplatelet In Capsular Warning Syndrome.
2. Anxiety, Depression And Occupational Participation Of Stroke Survivors.
3. Atrial Fibrillation In Hypertensive Patient With Prior Stroke: A Case Report.
4. Radiology Workflow Efficiency In Managing Stroke Patient During Pandemic Covid-19: Early Experience In A Teaching Hospital.
5. Are There Missed Opportunities In Reducing Risk Of Recurrent Cardiovascular Event Among Stroke Survivors Living In The Community?
6. Efficiency of Hand-Arm Language Therapy
7. The Rash That Solved The Diagnostic Dilemma: An Overlooked Cause Of Ischemic Stroke.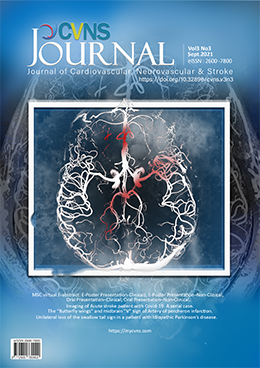 Downloads
How to Cite
Stroke Conference, M. (2021). MSC 2021 Virtual E-Abstract: E-Poster Presentation-Clinical 03. Journal Of Cardiovascular, Neurovascular &Amp; Stroke, 3(3), 15–21. https://doi.org/10.32896/cvns.v3n3.15-21