MSC 2021 Virtual E-Abstract
E-Poster Presentation-Clinical 02
Abstract
1. Hiccups: An Atypical Presentation Of Lateral Medullary Syndrome
2. Ouch, We Be Burnin' Ya: A Case Report On Central Poststroke Pain Syndrome - Dejerine-Roussy Syndrome.
3. Stroke Severity, Onset-to-Door Time, Door-to-Needle Time Comparison : Pre & During COVID19 Era In A District Hospital.
4. Intravenous Thrombolysis In Acute Stroke In Stroke Ready Hospitals Without Neurologists: Beneficial Effects In Nihss And Mrs Improvements.
5. Acute Inspiratory Stridor As An Unusual Presentation Of Brainstem Stroke.
6. Overview Of Ischemic Stroke Management Following Stroke Code Activation Pathway At District Hospital.
7. Onset To Treatment Time of Ischaemic Stroke Thrombolysis And Functional Outcome In A District Hospital.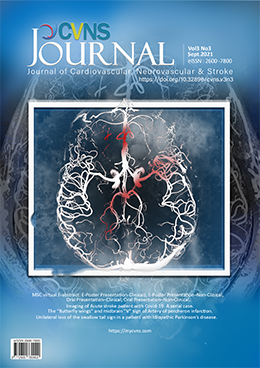 Downloads
How to Cite
Stroke Conference, M. (2021). MSC 2021 Virtual E-Abstract: E-Poster Presentation-Clinical 02. Journal Of Cardiovascular, Neurovascular &Amp; Stroke, 3(3), 8–14. https://doi.org/10.32896/cvns.v3n3.8-14