MSC 2021 Virtual E-Abstract
E-Poster Presentation-Clinical 01
Abstract
1. A Malaysian Single Centre Experience of NOAC Efficacy And Safety For Stroke Prevention in NVAF.
2. An Observational Study On The Overview Of Young Stroke Patients.
3. An Overview of Stroke Patterns from A Stroke Ready Hospital.
4. Mortality After Stroke: A 9-Month Observational Study.
5. The Characteristics of Post-Stroke Patients from Hospital Seberang Jaya.
6. The Impact of COVID-19 Pandemic on Acute Stroke Care: An Experience from a Primary Stroke Centre in Malaysia.
7. Young Stroke On Prevalence Of Epidemiological Factors, Stroke Subtypes And Stroke Events - An Observational Study.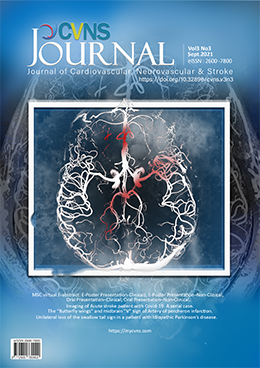 Downloads
How to Cite
Stroke Conference, M. (2021). MSC 2021 Virtual E-Abstract: E-Poster Presentation-Clinical 01. Journal Of Cardiovascular, Neurovascular &Amp; Stroke, 3(3), 1–7. https://doi.org/10.32896/cvns.v3n3.1-7