Unilateral loss of the swallow tail sign in a patient with idiopathic Parkinson's disease
Keywords:
Swallow tail sign, Idiopathic Parkinson's Disease, tremor, bradykinesia
Abstract
A 66-year-old man with underlying hypertension and dyslipidemia presented with left hand tremor for one year. He also noticed difficulty in initiating movement and slowness in activities of daily living. On examination, he was noted to have mask-like facies with reduced blinking and monotonous speech. There was presence of resting pill-rolling tremor, bradykinesia, and cogwheel rigidity which was worst on the left upper limb. Gait assessment revealed difficulty in standing up, shuffling gait with reduced arm swing which was more prominent on the left side, and turning in numbers. No cerebellar signs and supranuclear palsy were present to suggest Parkinson-plus syndrome. Susceptibility weighted imaging (SWI) showed loss of the swallow tail sign on the right side [Figure 1]. The clinical presentation, supplemented by the imaging findings were concluded to be pathognomonic of idiopathic Parkinson's disease (IPD), Hoehn & Yahr stage 1. He was started on levodopa and benserazide twice daily with improvement of symptoms.

The nigrosomes are primary subregions of the substantia nigra where dopaminergic cells are lost in IPD. Within these nigrosomes, maximal cell loss occurs in nigrosome-1; the largest subgroup of nigrosomes. Normally, they appear as a SWI-hyperintense area surrounded by hypointensity within the dorsolateral substantia nigra, akin to a swallow's tail. In one study, poor visualization of nigrosome-1 was significantly associated with higher motor asymmetry in the contralateral side (sensitivity 98.5%, specificity 93.6%, positive-predictive value 98.3%, negative-predictive value 98.3% and an accuracy of 96%) [1]. Noh et al [2] showed that abnormality involving nigrosome-1 can be detected at 3T MR imaging with an accuracy of 94.6%. Due to the difficulty in diagnosis of early stage IPD, a loss of the swallow tail sign serves as a useful imaging biomarker to supplement the clinical diagnosis, as seen in our patient.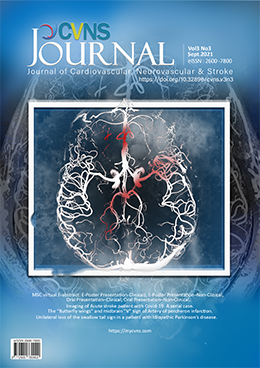 Downloads
How to Cite
Abd Rashid, A. M., Md Noh , M. S. F. ., Yusof Khan , A. H. K. ., Mohd Yaakob , M. N. ., Bahari, N. ., & Basri, H. (2021). Unilateral loss of the swallow tail sign in a patient with idiopathic Parkinson's disease. Journal Of Cardiovascular, Neurovascular &Amp; Stroke, 3(3), 59–62. https://doi.org/10.32896/cvns.v3n3.59-62