Imaging of Acute Stroke patient with Covid-19: A serial case
Keywords:
Acute Stroke, Covid-19
Abstract
Background: Coronavirus Disease 2019 (COVID-19) has been declared as a pandemic in March 2020 by WHO. Apart from respiratory symptoms, COVID-19 is also associated with various neurological manifestations, one of which is stroke. We reported three cases with diagnosis of stroke in confirmed COVID-19 patients.
Case Presentation: Head CT scan without contrast in the three reported cases showed different types of strokes. The first case showed ischemia in the right insular lobe and right parietal lobe. The second case showed intracerebral hemorrhage in the left thalamus and intraventricular hemorrhage, whereas the third case showed acute infarction in right frontotemporal lobe, right lentiform nucleus, right insular cortex, that supports prelenticulostriate segment I MCA embolism.
Conclusion: CT scan is an important imaging modality in stroke cases both in COVID-19 and non-COVID-19 cases. CT scans are good at detecting the presence of bleeding, widely available, faster to operate, and less expensive than MRI. The types of stroke in COVID-19 patients can appear as different types of stroke. Generally, it appears as ischemic stroke, but hemorrhagic stroke can also occur with a less frequent occurrence. Further research is needed to explain the exact correlation between stroke and COVID-19.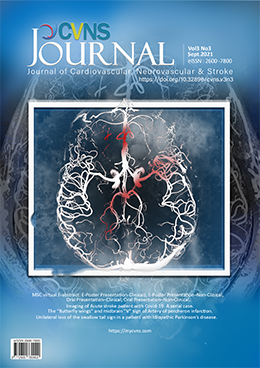 Downloads
How to Cite
Pradana, W., & Yueniwati, Y. (2021). Imaging of Acute Stroke patient with Covid-19: A serial case. Journal Of Cardiovascular, Neurovascular &Amp; Stroke, 3(3), 45–55. https://doi.org/10.32896/cvns.v3n3.45-55
Section
Case Series/Reports