The "butterfly wings" and midbrain "V" sign of Artery of Percheron infarction
Keywords:
artery of percheron, midbrain , Butterfly wings, thalamic infarct
Abstract
An 80-year-old woman with history of hypertension presented to the emergency department following a fall. Her mental status quickly deteriorated and became obtunded. She was stuporous, and unresponsive to verbal stimuli. She had minimally reactive pupils and was moving extremities to painful stimuli. An MRI scan was performed following an unrevealing CT brain.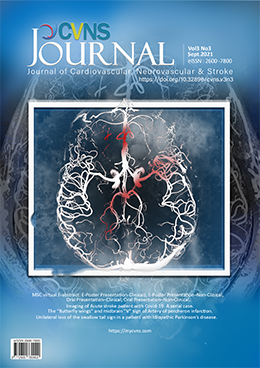 Downloads
How to Cite
Chee, Y. C., & Abdul Halim, S. (2021). The "butterfly wings" and midbrain "V" sign of Artery of Percheron infarction. Journal Of Cardiovascular, Neurovascular &Amp; Stroke, 3(3), 56–58. https://doi.org/10.32896/cvns.v3n3.56-58