Multidisciplinary Approach Is A Way To Go For Treatment Of High Flow Head And Neck Arteriovenous Malformations
Multidisciplinary Approach in Head and Neck AVMs
Keywords:
Arteriovenous Malformation, Embolization, High Flow, Multidisciplinary, Plastic Surgery
Abstract
Purpose.
To determine the role of the multidisciplinary approach, with the interventional radiologists and plastic surgeons working in collaboration with each other, in the management of complex high flow head and neck arteriovenous malformations to facilitate the best possible outcome.
Methods
A prospective study of seven patients with high flow head and neck AVMs treated at a tertiary care hospital between 2018 and 2020 was performed. Medical records and neuro intervention department logbook were maintained for age at first diagnosis, presenting features, prior treatments, endovascular treatment, surgical treatment, and therapeutic outcomes. A comparison between pre-procedure and post-procedure photographs was done in all cases to measure the clinical outcome.
Results: Joint ventures on seven patients with complicated high flow head and neck arteriovenous malformation were performed, there was the equivalent appropriation of men and women with an average age of coming to the hospital being 24 years. Each of the seven patients experienced embolization followed by surgical procedures inside a 24-hour window up to 72 hours. Therapeutic removal of the lesion was accomplished in six cases while palliative resection was done in the seventh case. There were minor wound healing issues in one patent which was managed through dressings.
Conclusion
The general findings demonstrated that embolization alone isn't successful in controlling side effects. Incomplete removal of an AVM doesn't show up to relieve symptoms either and exacerbates recurrence. The use of combined modality helps the plastic surgeon in achieving excision of high flow AVM of the head and neck. The pivotal role of the interventional radiologist in delineating the vascular anatomy and directing the surgeon towards the best possible surgical outcome helps the patient in terms of reduced intraoperative blood loss, less hemodynamic instability, reduced operating time, early recovery, and decreased hospital stay.
References
F. Clarençon, R. Blanc, C.-J. Lin, C. Mounayer, O. Galatoire, S. Morax, J. Moret and M. Piotin, Combined Endovascular and Surgical Approach for the Treatment of Palpebral Arteriovenous Malformations: Experience of a Single Center, American Journal of Neuroradiology January 2012, 33
M.Saeed KilaniabV.LepenneccP.PetitdG.MagaloneD.CasanovaeJ.-M.BartolidV.Vidald, Embolization of peripheral high-flow arteriovenous malformations with Onyx, Diagnostic and Interventional Imaging
Volume 98, Issue 3, March 2017
J. Pekkola, K. Lappalainen, P. Vuola, T. Klockars, P. Salminen and A. Pitkäranta, Head and Neck Arteriovenous Malformations: Results of Ethanol Sclerotherapy, American Journal of Neuroradiology January 2013, 34
M. W. Erdmann, J. E. Jackson, D. M. Davies, and D. J. Allison, Multidisciplinary approach to the management of head and neck arteriovenous malformations, Ann R Coll Surg Engl. 1995 Jan; 77
A. Churojana, P. Chiewwit, A. Chuangsuwanich,* C. Aojanepong,* O. Chawalaparit, and S. Suthipongchai, Embolization of Vascular Malformations in Head and Neck Regions
A Single Center Experience, Interv Neuroradiol. , 2004 Oct 22.
A A Dmytriw 1, K G Ter Brugge, T Krings, R Agid, Endovascular treatment of head and neck arteriovenous malformations, Neuroradiology
. 2014 Mar;56
David Case, MD,* Zach Folzenlogen, MD, Paul Rochon, MD, David Kumpe, MD, Christopher Roark, MD, and Joshua Seinfeld, MD, Embolization of Head and Neck Vascular Malformations using Serial Arterial Embolization Followed by Dominant Arterial Embolization with Two Microcatheter Technique, J Vasc Interv Neurol. 2018 Nov; 10
P. A. Dieng,1 P. S. Ba,1 M. Gaye,1 S. Diatta,1 M. S. Diop,1 E. Sene,1 A. G. Ciss,1 A. Ndiaye,1 and M. Ndiaye, Giant Arteriovenous Malformation of the Neck, Case Reports in Vascular Medicine / 2015
Chang Hsien Ou 1, Ho Fai Wong, Ming Shiang Yang, Tzu Hsien Yang, Tzu Lung Ho, Percutaneous direct puncture embolization for superficial craniofacial arteriovenous malformation, Interv Neuroradiol
. 2008 Nov 11;
Naresh K. Panda1*, Prabhat Thakur1, Ramesh K. Sharma2, Gautam Biswas2, Roshan Verma1 and Niranjan Khandelwal3 , Management of Head and Neck Arteriovenous Malformations - Teamwork Counts, Journal of Otolaryngology and Reconstructive Surgery, June 30, 2016
Catarina Oliveira1 , Henrique Donato1 , Francisco Pereira da Silva1 , Paulo Donato1 , Alfredo Gil Agostinho1 , Vitor Carvalheiro1, LONG-TERM OUTCOME OF EMBOLIZATION OF EXTRACRANIAL ARTERIOVENOUS MALFORMATIONS OF THE HEAD AND NECK, ACTA RADIOLÓGICA PORTUGUESA Setembro-Dezembro 2015
Tara L Rosenberg 1, James Y Suen 2, Gresham T Richter, Arteriovenous Malformations of the Head and Neck, Otolaryngol Clin North Am
. 2018 Feb;51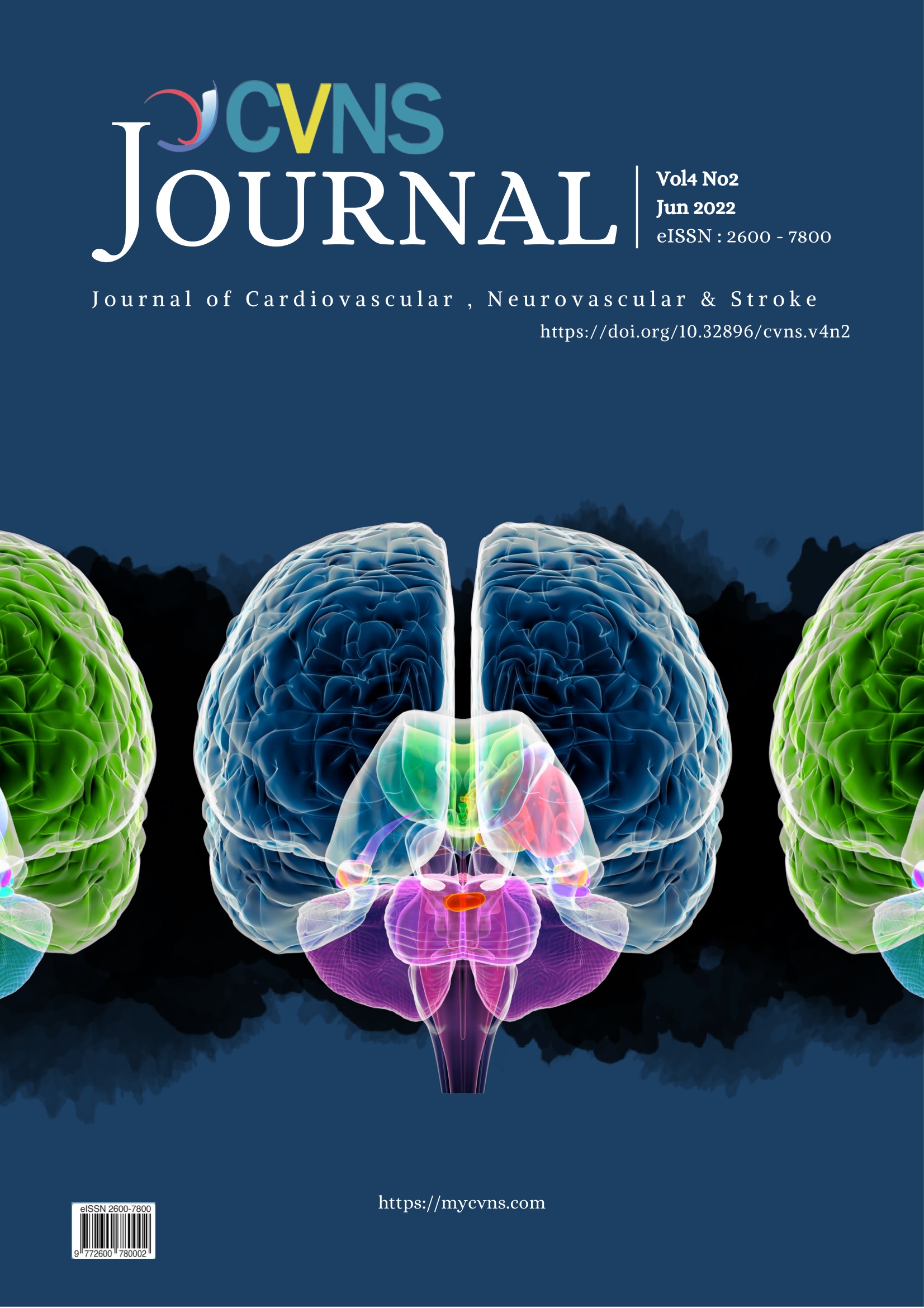 How to Cite
Ahmad, S., Roomana Akhlaque, Moeez Uddin, Umair Rashid, Anchalee Churojana, & Muhammad Aslam Khan. (2022). Multidisciplinary Approach Is A Way To Go For Treatment Of High Flow Head And Neck Arteriovenous Malformations: Multidisciplinary Approach in Head and Neck AVMs. Journal Of Cardiovascular, Neurovascular &Amp; Stroke, 4(2), 1–15. https://doi.org/10.32896/cvns.v4n2.1-15
License
Copyright (c) 2022 Journal Of Cardiovascular, Neurovascular & Stroke
This work is licensed under a Creative Commons Attribution-ShareAlike 4.0 International License.