The Magnetic Resonance Imaging (MRI) Features in Diagnosing Tumefactive Demyelinating Lesion.
Keywords:
Magnetic Resonance Imaging (MRI), Tumefactive demyelinating lesion (TDL), Open ring enhancement
Abstract
Background: A demyelinating lesion can present as a space occupying lesion in Magnetic Resonance Imaging (MRI) brain. Lesions that have diameter greater than 2 cm is referred as tumefactive demyelinating lesion. These lesions can mimic a brain tumor, namely glioma or primary central nervous system lymphoma.
Case presentation: We present two female patients over 30 years old who presented with limb weakness. Their MRI demonstrated typical appearance of a solitary, incomplete rim enhancing lesion that involved the subcortical white matter with minimal mass effect. Also, the rim of enhancement opened to the grey matter. Due to their typical appearance, biopsy was not performed. The lesions in both patients reduced in size upon follow up after treatment commencement and currently recovering.
Conclusion: In this case report, we focus on discussing the MRI features of tumefactive demyelinating lesion and its main differentials, which are central nervous system lymphoma (CNSL) and glioma.
References
Jeong IH, Kim SH, Hyun JW, Joung A, Cho HJ, Kim HJ. Tumefactive demyelinating lesions as a first clinical event: Clinical, imaging, and follow-up observations. J Neurol Sci. 2015 Nov 15;358(1-2):118-24.
Given CA 2nd, Stevens BS, Lee C. The MRI appearance of tumefactive demyelinating lesions. AJR Am J Roentgenol. 2004 Jan;182(1):195-9.
Vakrakou AG, Tzanetakos D, Evangelopoulos M-E, Argyrakos T, Tzartos JS, Anagnostouli M, et al. Clinico-radiologic features and therapeutic strategies in tumefactive demyelination: a retrospective analysis of 50 consecutive cases. Therapeutic Advances in Neurological Disorders. 2021;14:18.
Kilic AK, Kurne AT, Oguz KK, Soylemezoglu F, Karabudak R. Mass lesions in the brain: tumor or multiple sclerosis? Clinical and imaging characteristics and course from a single reference center. Turk Neurosurg. 2013;23(6):728-35.
Patriarca L, Torlone S, Ferrari F, Di Carmine C, Totaro R, di Cesare E, Splendiani A. Is size an essential criterion to define tumefactive plaque? MR features and clinical correlation in multiple sclerosis. Neuroradiol J. 2016 Oct;29(5):384-9.
Altintas A, Petek B, Isik N, Terzi M, Bolukbasi F, Tavsanli M, Saip S, Boz C, Aydin T, Arici-Duz O, Ozer F, Siva A. Clinical and radiological characteristics of tumefactive demyelinating lesions: follow-up study. Mult Scler. 2012 Oct;18(10):1448-53.
Mabray MC, Cohen BA, Villanueva-Meyer JE, Valles FE, Barajas RF, Rubenstein JL, Cha S. Performance of Apparent Diffusion Coefficient Values and Conventional MRI Features in Differentiating Tumefactive Demyelinating Lesions From Primary Brain Neoplasms. AJR Am J Roentgenol. 2015 Nov;205(5):1075-85.
Balloy G, Pelletier J, Suchet L, Lebrun C, Cohen M, Vermersch P, Zephir H, Duhin E, Gout O, Deschamps R, Le Page E, Edan G, Labauge P, Carra-Dallieres C, Rumbach L, Berger E, Lejeune P, Devos P, N'Kendjuo JB, Coustans M, Auffray-Calvier E, Daumas-Duport B, Michel L, Lefrere F, Laplaud DA, Brosset C, Derkinderen P, de Seze J, Wiertlewski S; Société Francophone de la Sclérose en Plaques. Inaugural tumor-like multiple sclerosis: clinical presentation and medium-term outcome in 87 patients. J Neurol. 2018 Oct;265(10):2251-2259.
Lin X, Yu WY, Liauw L, Chander RJ, Soon WE, Lee HY, Tan K. Clinicoradiologic features distinguish tumefactive multiple sclerosis from CNS neoplasms. Neurol Clin Pract. 2017 Feb;7(1):53-64.
Smirniotopoulos JG, Murphy FM, Rushing EJ, Rees JH, Schroeder JW. Patterns of contrast enhancement in the brain and meninges. Radiographics. 2007 Mar-Apr;27(2):525-51.
Masdeu JC, Quinto C, Olivera C, Tenner M, Leslie D, Visintainer P. Open-ring imaging sign: highly specific for atypical brain demyelination. Neurology. 2000 Apr 11;54(7):1427-33.
Kim DS, Na DG, Kim KH, Kim JH, Kim E, Yun BL, Chang KH. Distinguishing tumefactive demyelinating lesions from glioma or central nervous system lymphoma: added value of unenhanced CT compared with conventional contrast-enhanced MR imaging. Radiology. 2009 May;251(2):467-75.
Cha S, Pierce S, Knopp EA, Johnson G, Yang C, Ton A, Litt AW, Zagzag D. Dynamic contrast-enhanced T2*-weighted MR imaging of tumefactive demyelinating lesions. AJNR Am J Neuroradiol. 2001 Jun-Jul;22(6):1109-16.
Lu SS, Kim SJ, Kim N, Kim HS, Choi CG, Lim YM. Histogram analysis of apparent diffusion coefficient maps for differentiating primary CNS lymphomas from tumefactive demyelinating lesions. AJR Am J Roentgenol. 2015 Apr;204(4):827-34.
Nakayama M, Naganawa S, Ouyang M, Jones KA, Kim J, Capizzano AA, Moritani T. A Review of Clinical and Imaging Findings in Tumefactive Demyelination. AJR Am J Roentgenol. 2021 May 19:1-12.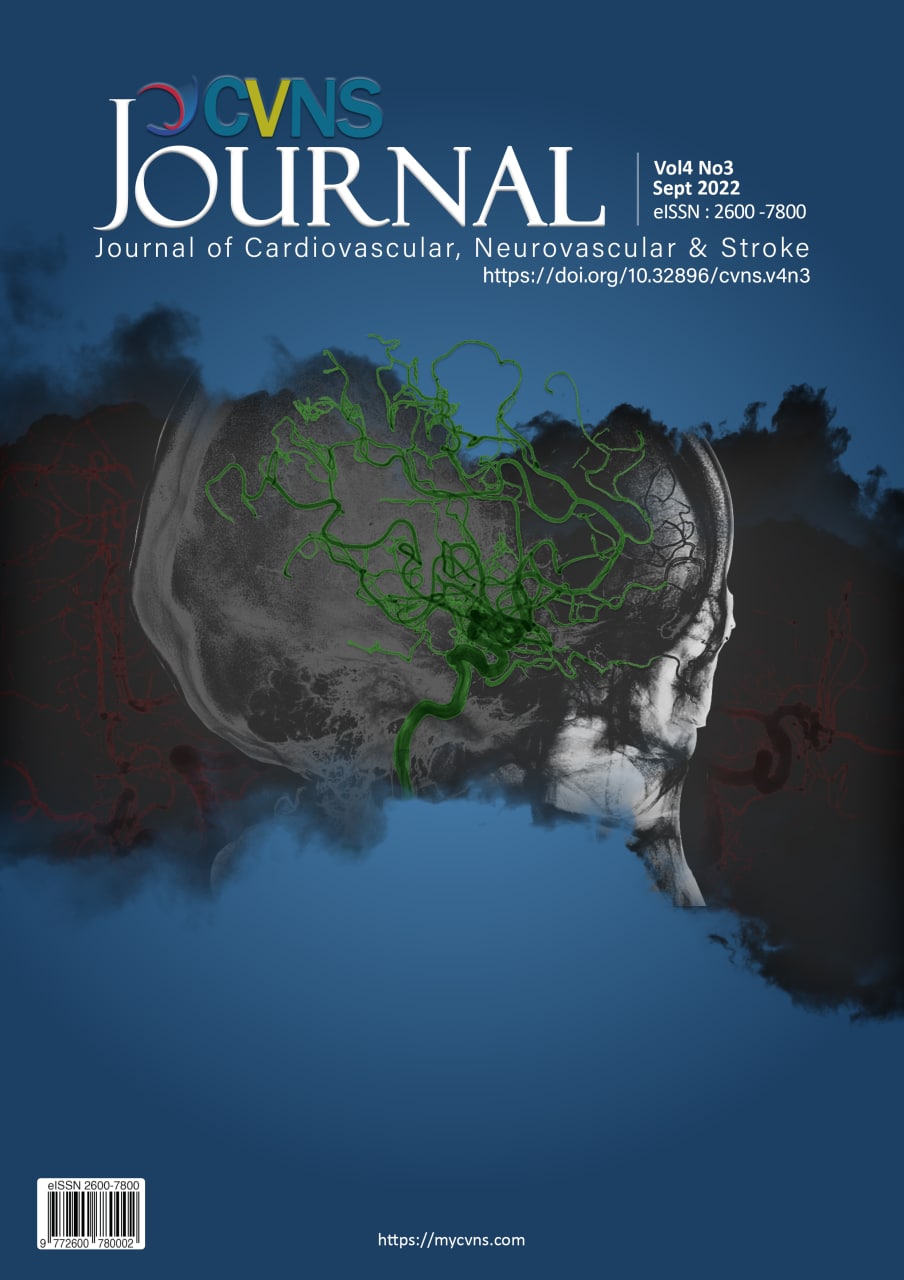 How to Cite
Foo, S. Y., Rahim, N. H., Mohd Mustapha, A. W. M., & Mohd Zaini, N. R. (2022). The Magnetic Resonance Imaging (MRI) Features in Diagnosing Tumefactive Demyelinating Lesion . Journal Of Cardiovascular, Neurovascular & Stroke, 4(3), 14–20. https://doi.org/10.32896/cvns.v4n3.14-20
Section
Case Series/Reports
License
This work is licensed under a Creative Commons Attribution-ShareAlike 4.0 International License.