MSC virtual e-abstract (ONC)
Abstract
Incidence rate of developing first ever stroke over a 5-year period.
Post-stroke aphasia rehabilitation in Malaysia: findings from a survey with speech-language pathologists.
Neuroprotective effect of nanoparticle-bounded brain-derived neurotrophic factor (bdnf) on experimental haemorrhagic stroke in rats.
Adenosine a1 receptor plays role in neuroprotection by resveratrol against neurobehavioural deficits in rat model of hemorrhagic stroke.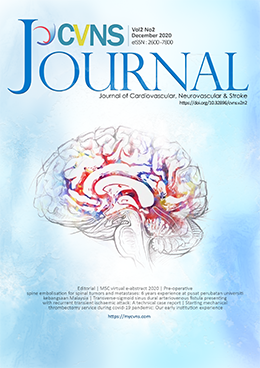 Downloads
How to Cite
Stroke Conference 2020, M. (2020). MSC virtual e-abstract (ONC). Journal Of Cardiovascular, Neurovascular & Stroke, 2(2), 51-54. https://doi.org/10.32896/cvns.v2n2.51-54