MSC virtual e-abstract (OCL-02)
Abstract
Falls after stroke at the University of Malaya Medical Centre falls clinic.
Outcomes of thrombolysis therapy for acute ischemic stroke in a non-neurologist government hospital in northern region of Malaysia.
Acute stroke unit of Seberang Jaya Hospital – Taking baby steps.
Demographic and characteristics of acute stroke registry, Hospital Seberang Jaya (ASTRO-HSJ).
Assessing white matter hyperintensities and neurocognitive profile in apparently asymptomatic individuals using graphical measurement assessment.
Survey on post-stroke care services after discharge from Hospital Taiping.
Exploring the utilization of animal-assisted intervention for individuals undergoing inpatient stroke rehabilitation.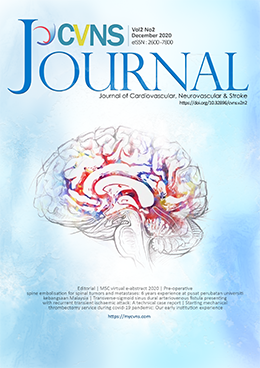 Downloads
How to Cite
Stroke Conference 2020, M. (2020). MSC virtual e-abstract (OCL-02). Journal Of Cardiovascular, Neurovascular & Stroke, 2(2), 44-50. https://doi.org/10.32896/cvns.v2n2.44-50