MSC virtual e-abstract (OCL-01)
Abstract
Stroke rehabilitation in Hospital Raja Perempuan Zainab II: A cross sectional study.
Factors affecting arrival time of acute ischaemic stroke patients in Pusat Perubatan Universiti Kebangsaan Malaysia.
Outcomes of antiplatelet therapy for secondary prevention in patients with ischaemic stroke or transient ischaemic attack.
Use smartphone application to save life in patients of acute ischemic stroke.
Frailty and its association with characteristics and outcomes of older persons with acute stroke.
Factors contributing to mortality and prolonged length of stay among older persons admitted with acute stroke.
Assessment of effect of age on glasgow coma scale (gcs) and national institutes of health stroke scale (nihss) in stroke patients.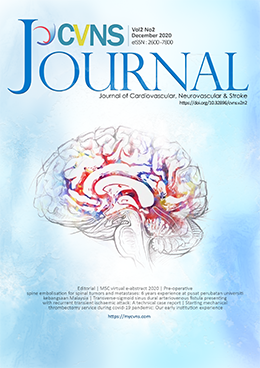 Downloads
How to Cite
Stroke Conference 2020, M. (2020). MSC virtual e-abstract (OCL-01). Journal Of Cardiovascular, Neurovascular & Stroke, 2(2), 37-43. https://doi.org/10.32896/cvns.v2n2.37-43