MSC virtual e-abstract (CPP-02)
Abstract
Corticospinal tract (cst) structural integrity as the imaging marker of functional motor recovery outcome in stroke rehabilitation.
A systematic review and meta-analysis: The effects of vegetarian diets on systolic and diastolic blood pressure.
Association of stroke severity and risk factors with the local ethnic community of seberang prai - 4 months review from acute stroke unit, Seberang Jaya Hospital.
Angioedema secondary to iv alteplase for acute ischemic stroke.
Young stroke with antiphospholipid syndrome and nephrotic syndrome.
Multidisciplinary management of a hemorrhagic stroke during pregnancy with a successful functional outcome.
The light at the end of tunnel for management of acute ischemic stroke with large vessel occlusion in non-neurologist hospital.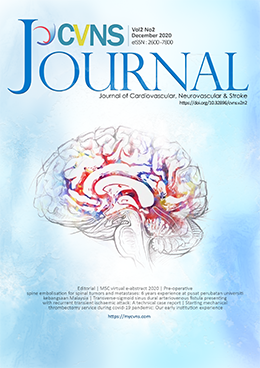 Downloads
How to Cite
Stroke Conference 2020, M. (2020). MSC virtual e-abstract (CPP-02). Journal Of Cardiovascular, Neurovascular & Stroke, 2(2), 8-14. https://doi.org/10.32896/cvns.v2n2.8-14