MSC virtual e-abstract (CPP-01)
Abstract
1. Stroke and tocotrienols unique role in neuroprotection (saturn): Protocol.
2. Age on prevalence of epidemiological factors, stroke subtypes and stroke events: An observational study.
3. Intravenous thrombolysis in older patients with acute ischaemic stroke. Is it safe in older patients in Malaysia?.
4. Intravenous and intra-arterial thrombolysis for ais with wake-up stroke – A case report from Sarawak General Hospital.
5. Thrombolysis in hyperacute stroke by physicians in resource-limited settings: The establishment of service and clinical outcome appraisal.
6. Outcome of ischemic stroke thrombolysis treatment in Seberang Jaya Hospital, A single center 8 years review: 2012- 2019.
7. Retrospective comparison of hyperacute mri brain vs. Ct brain in acute ischemic stroke : An observational study in a district hospital.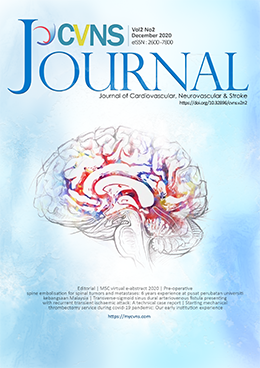 Downloads
How to Cite
Stroke Conference 2020, M. (2020). MSC virtual e-abstract (CPP-01). Journal Of Cardiovascular, Neurovascular & Stroke, 2(2), 1-7. https://doi.org/10.32896/cvns.v2n2.1-7