About the Journal
CVNS Journal is an open-access, multidisciplinary, peer-reviewed medical journal for cardiovascular, neurovascular, as well as stroke medicine, that features the latest aspects of diagnostic and therapeutic approaches of these clinical disciplines. We accept and publish articles that revolves around these specialties including the new trends in image-guided therapy (IGT). We believe the journal will be a great catalyst for further academic work and scientific research in these clinical specialties.
Current Issue
Vol. 2 No. 1 (2020): Journal of Cardiovascular, Neurovascular & Stroke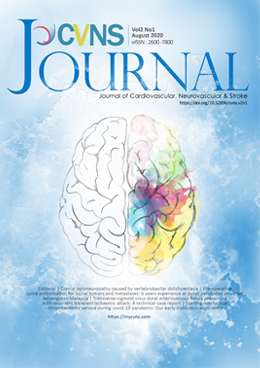 Corresponding author:
1. Dr.Tay Poh Sen, Department of Radiology, Hospital Kuala Lumpur, 50586 Kuala Lumpur, Malaysia.
2. Dr.Mohd Naim Mohd Yaakob, Radiology Department, Hospital Pengajar Universiti Putra Malaysia (HPUPM), 43400 Serdang, Selangor, Malaysia.
3. Dr Marlina Tanty Ramli Hamid (MRad (UM), MBChB (Manchester)), Department of Radiology, Faculty of Medicine, University Teknologi MARA (UiTM), Sungai Buloh Campus, 47000, Sungai Buloh, Selangor, Malaysia.
4. Dr Ezamin Abdul Rahim, Department of Imaging, Faculty of Medicine and Health Sciences, Universiti Putra Malaysia, 43600, Serdang, Selangor, Malaysia.
Full Issue
View All Issues
Digital Archive
The articles published in the CVNS will be assigned with digital object identifier for online publication by Crossref, a multilingual European Registration Agency for DOI.