About the Journal
Cardiovascular, Neurovascular & Stroke (CVNS) Journal is an open-access, multidisciplinary, peer-reviewed medical journal for cardiovascular, neurovascular, as well as stroke medicine. It features the latest aspects of diagnostic and therapeutic approaches of these clinical disciplines. We accept and publish articles that revolves around these specialties including the new trends in image-guided therapy (IGT). We believe the journal will be a great catalyst for further academic work and scientific research in these clinical specialties.
Digital Archive
The articles published in the CVNS will be assigned with digital object identifier for online publication by Crossref, a multilingual European Registration Agency for DOI.
---
Current Issue
Vol. 3 No. 4 (2021): Journal of Cardiovascular, Neurovascular & Stroke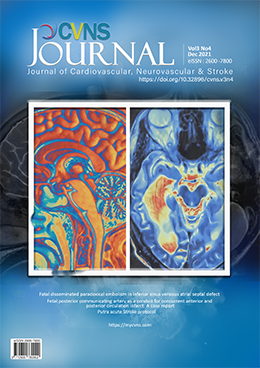 1. Dr. Ahmad Sobri Muda, Department of Radiology, FPSK, UPM & Hospital Pengajar UPM, Universiti Putra Malaysia, 43400, Serdang, Selangor, Malaysia.
2. Dr. Khairil Amir Sayuti, Department of Radiology, Universiti Sains Malaysia, School of Medical Sciences, Jalan Raja Perempuan Zainab 2, 16150 Kota Bharu, Kelantan, Malaysia.
3. Dr. Mohamed Azlam Micdhadhu, Internal Medicine Department, Hospital Seberang Jaya, Pulau Pinang, Malaysia.


View All Issues