Endovascular Intervention for Acute Ischemic Stroke in Can Tho University of Medicine and Pharmacy Hospital
Keywords:
Acute Ischemic Stroke, IV rTPA, Intra-arterial Thrombolysis, Catheter-based Thrombectomy, Intra and Extracranial Angoplasty and Stenting
Abstract
Introduction:
            Acute cerebral ischemic stroke is a life-threatening emergency with high incidence of mortality and morbidity. Endovascular revascularization has been increasingly adopted as one of the treatment options. In this article, outcomes of endovascular intervention for the treatment of ischemic stroke are reported with highlights on  selected technical experiences.
 Method and subjects:
                A cross sectional descriptive study was conducted on all cerebral ischemic stroke patients who arrived to Can Tho Medical University Hospital within 8 hours from the onset of the first symptom. The National Institute of Health Stroke Scale (NIHSS) was used for stroke grading. Diagnoses were confirmed by plain computed tomography (CT) of the brain, cerebral computed tomography angiography (CTA) or magnetic resonance imaging (MRI) of the brain. Routine biochemical pre-operative investigations were conducted and the patients were screened for comorbidities. Cerebral angiography was indicated when the CT angiography showed occlusions of the carotid arteries, the M1 portion of the middle cerebral arteries (MCA) and the basilar arteries. Vascularization procedure was performed with the thrombus aspiration systems or stent retrievers. In cases that needed angioplasty and stenting, Gateway balloons were used for stenosis dilation. Wingspan and carotid wallstent were used for intra- and extracranial stenoses, respectively.
Results:
            A total of 53 patients were recruited from the 1st of January 2019 to 30th December 2020 (24 months). Male to female ratio was 1.54:1 while their ages ranged from 38 to 90 (mean 64). NIHSS scores ranged from 12 to 25. Approximately 98% of patients had comorbidities with hypertension, diabetes, atrial fibrillation, mitral valve stenosis, valvular insufficiency and atrioventricular block. A total of 44 patients experienced thrombectomy with catheter-based distal aspiration (35), stent retrievers (03), and aspiration plus stent retriever combination (06). There were four patients with stenting after thrombectomy at the MCA. Moreover, four patients had internal carotid artery (ICA) origin stenoses and tandem thrombus embolism at the MCA. These were revascularized with thrombectomy at the MCA and stenting at the ICA stenoses. Another three patients had basilar artery occlusion, and among whom one had stenting after thrombectomy. The total technical success rate for all procedures were 47/53 (88.6%) with thrombolysis in cerebral infarction (TICI) and perfusion scale rates of grade 2B (14%) to grade 3 (86%). The unsuccessful procedure (TICI from 2a to below) were due to the inability to aspirate or retrieve the thrombi. The total death rate was 15/53 (28.3%), due to the combined comorbidities i.e. pneumonia, progressive cerebral edema, cerebral hemorrhage, hypertension, diabetes mellitus, renal failure. There were 31/53 patients (58.4%), which had significant recovery in muscle movement, language and cognition after 2 weeks.
 Conclusion:
            Endovascular intervention is a good option for the management of acute ischemic stroke. The treatment had a high revascularization rate (88.6%) and saved up to 58.4% of patients out of their disability. The successful revascularization is a crucial first step to salvage the patients and obtain a better prognosis.
 Key words: acute ischemic stroke, IV rTPA, intra-arterial thrombolysis, catheter-based thrombectomy, intra and extracranial angioplasty and stenting.
References
Von Kummer R, Meyding, Lamade U, Forsting M, Rosin L, Rieke K et al. Sensitivity and prognostic value of early CT in occlusion of the middle cerebral artery trunk. AJNR Am J Neuroradiol. 1994;15:9–15.
Patel SC, Levine SR, Tilley BC, Grotta JC, Lu M, Frankel M et al. National Institute of Neurological Disorders and Stroke rt-PA Stroke Study Group. Lack of clinical significance of early ischemic changes on computed tomography in acute stroke. JAMA. 2001;286:2830–2838.
Barber PA, Darby DG, Desmond PM, Gerraty RP, Yang Q, Li T,Jolley et al. Identification of major ischemic change: diffusion-weighted imaging versus computed tomography. Stroke. 1999;30:2059–2065.
Flacke S, Urbach H, Keller E, Träber F, Hartmann A, Textor J, et al. Middle cerebral artery (MCA) susceptibility sign at susceptibility-based perfusion MR imaging: clinical importance and comparison with hyperdense MCA sign at CT. Radiology. 2000;215:476–482
The National Institute of Neurological Disorders and Stroke rTPA Stroke Study group. Tissue plasminogen activator for acute ischemic stroke. N Engl J Med. 1995;333:1581-1587.
Kaste M, Hacke W, Fieschi C. Result of European cooperative acute stroke study (ECASS). Cerebrovasc Dis. 1995;5:225.
Hacke W, Kaste M, Fieschi C, Von Kummer R, Davalos A, Meier D et al. Randomised double-blind placebo-controlled trial of thrombolytic therapy with intravenous alteplase in acute ischemic stroke (ECASS II). Second European-Australasian Acute stroke study investigators. Lancet. 1998;352:1245-1251.
Hawke W, Donnan G, Fieschi C, Kaste M, Von Kummer R, Broderick JB et al. Association of outcome with early stroke treatment: pooled analysis of ATLATIS, ECASS and NINDS rt-PA stroke trials. Lancet. 2004;363:768-774.
Mattle HP, Arnold M, Georgiadis D, Baumann C, Nedeltchev K, Benninger D et al. Comparison of intra-arterial and intravenous thrombolysis for ischemic stroke with hyperdense middle cerebral artery sign. Stroke. 2008;39:379-383.
Tarr R, Hsu D, Kulcsar Z, Bonvin C, Rufenacht D, Alfke K et al. The POST trial: initial post-market experience of the Penumbra system: revascularization of large vessel occlusion in acute ischemic stroke in United State and Europe. J Neurointerv Surg. 2010;2:341-344.
Maxim Mokin, Kenneth V Snyder, Elad I Levy, L Nelson Hopkins, Adnan H Siddiqui. Direct carotid artery puncture access for endovascular treatment of acute ischemic stroke: technical aspects, advantages, and limitations. Journal of Neurointeventional Surgery. 2014.
Blanc R, Piotin M, Mounayer C, Spelle L, Moret J. Direct cervical arterial access for intracranial endovascular treatment. Neuroradiology. 2006 Dec; 48(12):925-9.
Levy EI, Siddiqui AH, Crumlish A, Snyder KV, Hauck EF, Fiorella DJ et al. First Food and Drug Administration-approved prospective trial of primary intracranial stenting for acute stroke: SARIS (stent-assisted recanalization in acute ischemic stroke).Stroke. 2009;40:3552–3556.
Jae Young Choi, Jae Il Lee, Tae Hong Lee, Sang Min Sung, Han Jin Cho, Jun Kyeung Ko. Emergent Recanalization with Stenting for Acute Stroke due to Athero-Thrombotic Occlusion of the Cervical Internal Carotid Artery : A Single Center Experience. Journal of Korean Neurosurgical society. 2014. 55(6): 313-320.
Ringer AJ, Qureshi AI, Fessler RD, Guterman LR, Hopkins LN. Angioplasty of intracranial occlusion resistant to thrombolysis in acute ischemic stroke. Neurosurgery. 2001 Jun;48(6):1282- 1290.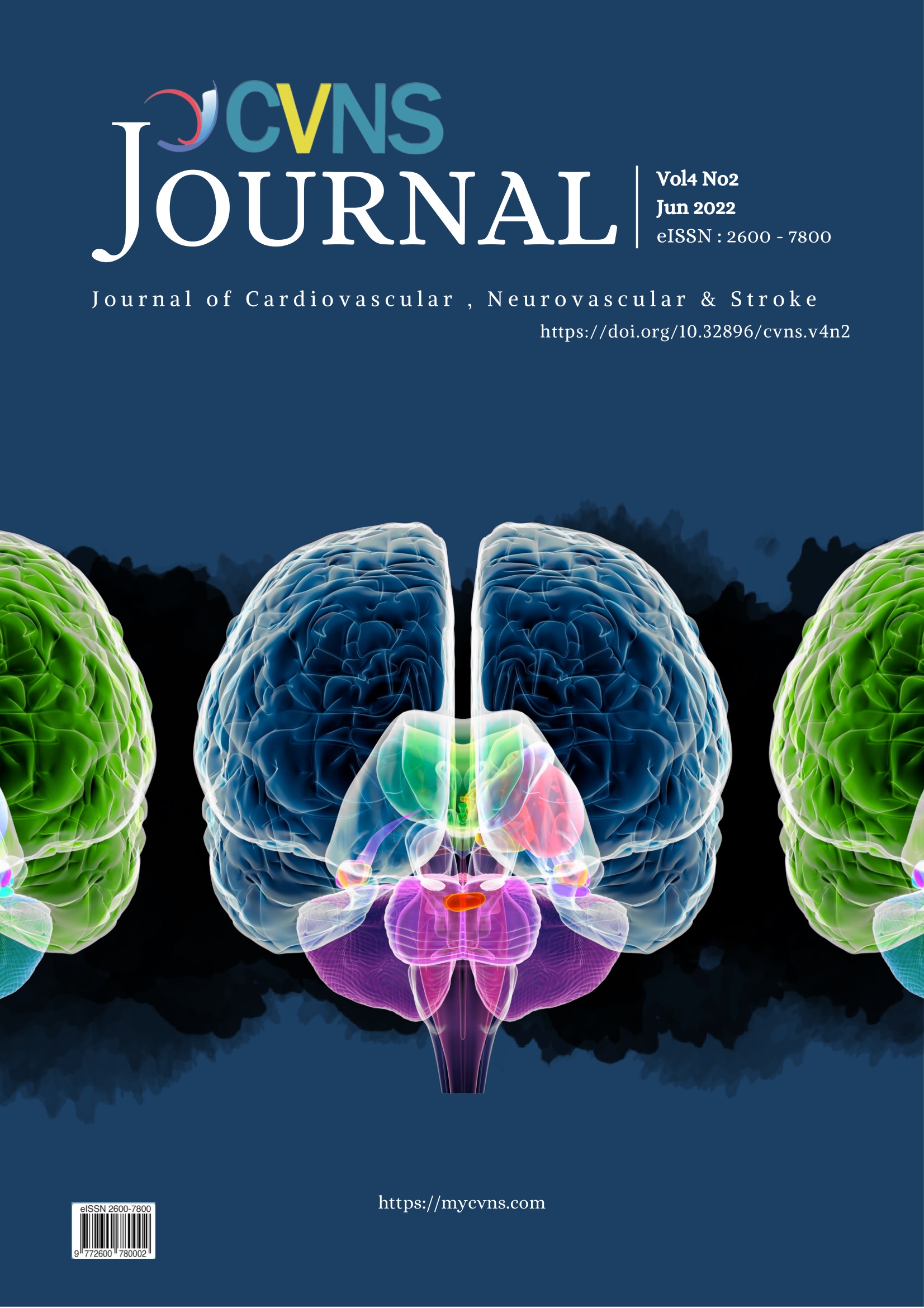 How to Cite
Nguyen, V. D., Cuong, T. C., Nguyen, H. T., Nguyen, D. L., Nguyen, T. N. T., Dinh, T. T., Le, V. M., Phu, T. N., Nguyen, H. T., Doan, D. T., Muda, A. S., & Ngo, V. T. (2022). Endovascular Intervention for Acute Ischemic Stroke in Can Tho University of Medicine and Pharmacy Hospital. Journal Of Cardiovascular, Neurovascular &Amp; Stroke, 4(2), 28–39. Retrieved from https://mycvns.com/index.php/journal/article/view/88
License
Copyright (c) 2022 Journal Of Cardiovascular, Neurovascular & Stroke
This work is licensed under a Creative Commons Attribution-ShareAlike 4.0 International License.